Treatment for Endometritis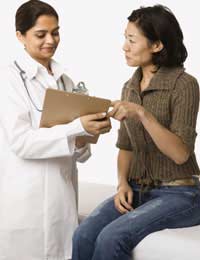 When the lining of the uterus (also called the endometrium) becomes inflamed or irritated a diagnosis of endometritis is usually made. This inflammation can be a result of pregnancy complications, caesarean section births and sexually transmitted diseases. Other reasons a women may develop endometritis include the insertion of an intrauterine birth control device (IUD), complications from abortion, and complications from other pelvic inflammatory diseases. The cause of the endometritis usually dictates which treatments will be most effective.
Treatment for Chronic or Mild Endometritis
If the inflammation present in endometritis is not serious or spreading, or if the patient is suffering from mild, long-term symptoms of endometritis the doctor will usually begin treatment with a course of oral antibiotics. These antibiotics are prescribed for at-home use and are usually taken for seven to twenty-one days in a row. After treatment the patient is tested to check for an improvement in symptoms. If necessary, the treatment can be repeated each time symptoms reappear or worsen.
Another popular treatment option for mild endometritis is the prescribing of oral contraceptives, or birth control pills. Doctors believe that the pills work to stabilise hormone production in the reproductive system and eliminate the swelling and irritation associated with endometritis. Once this course of treatment has been prescribed many women will need to continue taking the pills for at least twelve months or more.
Treatment for Acute Endometritis
Acute endometritis is the term used to describe the inflammation of the endometruim that occurs after childbirth or as a result of the contraction of a sexually transmitted disease. This type of endometritis is usually treated with antibiotics. If the inflammation is mild enough oral antibiotics can be prescribed, however, many cases of acute endometritis require treatment with intravenous antibiotics. In this case the patient will need to be hospitalised.
The most common antibiotics given for acute endometritis are gentamicin and clindamycin. These medications are given via an IV every eight hours for a period of 48 to 72 hours. If the condition is improving another round of the medication may be given 24 hours later.
In recent years some doctors have noted success with the use of monotherapy antibiotics. These antibiotics, which include cephalosporins, extended-spectrum penicillin, and fluoroquinolones, are prescribed and administered in the same way as the other intravenous medications.
In both cases, once the inflammation has improved or been eliminated, many doctors will still prescribe one round of oral antibiotics to be taken at home. This extra measure helps eliminate any lingering causes of irritation and ensures prolonged healing form the disease.
When Standard Treatment Fails
Some cases of endometritis, especially ones that fall into the category of mild, long-term endometritis, are especially hard to treat. In these cases doctors may prescribe surgery to eliminate the irritation and inflammation. This procedure involves the removal of the affected areas of endometrium lining. While this procedure will not cure the or totally eliminate the endometritis condition, it can be used to relive the symptoms of pain and abnormal bleeding.
If you have been diagnosed with endometritis it is best to discuss all of your treatment options with your doctor before beginning and plan. The treatment option that is best for you will depend on the type of endometritis you have, your current health, and your lifestyle.
You might also like...