Best Ways to Treat the Stomach Flu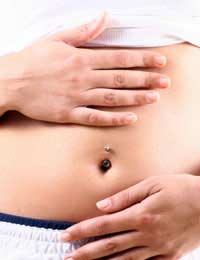 The stomach flu hits most of us at one time or another. Treating it quickly and effectively makes all the difference in helping you to get back into your daily routine and feel normal again.
But with something as common as the stomach flu, misconceptions abound. There are all sorts of fad treatments and misleading advertisements about over-the-counter products designed to help you recover. That's why it is best to take a look at what medical experts recommend in treating the stomach flu. You might be surprised by how simple but effective the recommendations are!
Also key is to learn how to diagnose the stomach flu and when to see your doctor. There are some more serious illnesses that can mimic the signs and symptoms of the stomach flu. Making sure you know when to get prompt medical help is critical to keeping you and your family safe and healthy.
What is the Stomach Flu?
The stomach flu is officially known as gastroenteritis. When it occurs, the gastrointestinal (GI) tract becomes inflamed. The result is nausea, vomiting and diarrhoea. Other symptoms include stomach cramps, a low grade fever and flatulence. Symptoms can range from mild to severe but anyone who has suffered from the stomach flu will agree it is very unpleasant.
There are many causes of the stomach flu. However, it is commonly transferred through contaminated foods or water as well as via person-to-person contact. The painful inflammation that happens in your GI tract comes from viruses, bacteria or parasites in the foods or water.
Much of the time, you can prevent getting the stomach flu in the first place by practicing excellent hygiene. This mean avoiding sources of contaminated food or water and washing your hands frequently and thoroughly.
Basics of Treating the Stomach Flu
In a sense, the best way to treat the stomach flu relates to prevention. This means that your treatment plan should aim to prevent 'spin-off' symptoms that come from the symptoms of the stomach flu itself.
If you're suffering from diarrhoea or you are vomiting, for instance, dehydration is a major risk. In fact, in underdeveloped nations, dehydration from the stomach flu is a common cause of death, particularly in infants. You should aim to rehydrate yourself by consuming water and electrolytes to replace those lost. If it is hard to keep down fluids, aim to take small, frequent mouthfuls.
Avoid carbonated beverages but a cola or ginger ale that has no fizz can work well for some people. If you are unable to keep down any fluids at all and begin to show the signs of dehydration along with severe symptoms of stomach flu, you should see a doctor.
Should I Eat When I Have the Stomach Flu?
As a general rule, most people won't be able to hold food down when they have the stomach flu that involves vomiting, which means that eating would not work even if it were recommended.
Usually, if you have gone without vomiting for approximately 24 hours, you can introduce simple foods. Aim for the BRAT diet. This includes bananas, rice, apples and toast. Once you find you can tolerate these foods, slowly include other healthy, simple foods until you are fully recovered and rehydrated.
Work Absences
If you are showing signs of the stomach flu, it is best to avoid being at work, where you can transfer the illness to other people. In addition, vomiting or diarrhoea often are challenge enough to function. Most people who suffer from the stomach flu will not need to take more than one to three days to recover at home.
When to See a Doctor
You should generally see a doctor if you experience symptoms that aren't consistent with just having a stomach flu. You should also see a doctor if you have particularly severe symptoms of a stomach flu. In addition, any symptoms of the stomach flu that do not resolve after a few days should be investigated by a doctor.
Severe symptoms of the stomach flu include a high fever of 101ºF (40ºC) or above, extreme pain in your stomach or blood in your stool or vomit. If you begin to feel extremely lightheaded and dizzy, this could be a sign of dehydration and should immediately receive attention.
Getting Back to a Healthy You
The stomach flu is a miserable experience but knowing how to prevent it from happening in the first place and treating it properly when it occurs is key to recovery. The sooner you can feel like yourself, the sooner you can get back to work and back to your normal routine.
You might also like...
Thanks really helped with info
twinkle123
- 8-Apr-12 @ 3:46 PM