Controlling Stomach Pain with Diet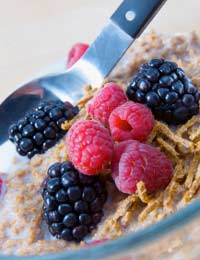 Stomach pain and problems such as nausea, diarrhoea, constipation, bloating, gas, and cramping, can be brought on by dietary choices and eating habits. The best to control these ailments is by controlling your diet. There are many steps that you can take to ease the stomach pain brought on by food consumption, but the most effective steps are those that are directly related to the exact cause of your particular pain.
Diet Tips for Controlling Diarrhoea and Constipation
Diarrhoea occurs when the digestion process takes place too quickly and the water in the food stuffs is not absorbed properly by the intestines. Constipation, on the hand, occurs when the digestive process is too slow and too much liquid is removed from the wastes. In order to combat the symptoms of diarrhoea you should avoid food items that have been shown to make the symptoms worse. Common diarrhoea culprits include caffeine, fatty foods, alcohol, and artificial sweeteners. If you frequently suffer from diarrhoea it is best to limit your intake of fried foods, bacon, sausage, oils other than extra virgin olive oil, and butter. You also need to limit your intake of colas, teas, coffee, and chocolate. To get the best results you will also need to increase your intake of high fibre foods, such as whole grain breads, fresh fruits, fresh vegetables, and beans. These food items will help your intestines absorb water and help regulate your bowel movements, thus reducing the occurrence of diarrhoea.
For constipation relief you should also eat a diet high in fibre, since the fibre will help keep the digestive process normal, but you will need to increase your water intake to ensure softer, more easily passed stools. For greater relief you should also avoid constipating foods like cheese, milk, and bananas, and avoid highly acid foods like citrus fruit, which can irritate the intestines and slow digestion.
Diet Tips for Controlling Irritable Bowel Syndrome
If you suffer from stomach pain associated with Irritable Bowel Syndrome (IBS) you will need to avoid ingesting any foods that seem to trigger the symptoms of diarrhoea, abdominal cramping, or constipation for you personally. You can also reduce the occurrence of stomach pain by avoiding caffeine, alcohol, deep-fried or fatty foods, gas-producing foods, and artificial sweeteners. To help further eliminate the symptoms of IBS you should also eat smaller meals throughout the day, take your time when consuming meals, increase your fibre intake, and drink plenty of water.
Diet Tips for Controlling Lactose Intolerance
If you suffer from lactose intolerance your stomach pain symptoms can usually be traced to the ingestion of diary products. For the most relief from these symptoms you should eliminate cow's milk, cheese, butter, ice cream, yoghurt, sour cream, and packaged foods that contain lactose from your daily diet.
General Diet Tips for Controlling Stomach Pain
If you are not exactly sure what the cause of your stomach pain is, there are still steps you can take to reduce or eliminate the symptoms. Foods that are high in fat content, foods that are extra spicy, foods that are high in acid, some dairy products, and most gas-producing foods can all cause stomach pain in otherwise healthy individuals. To avoid unwanted stomach pain limit your intake of rich desserts, fried foods, salsas, spicy ethnic foods, citrus fruits, whole cow's milk, homemade ice cream, cream, real butter, cabbage, beans, broccoli, apples, and any food item that contains Sorbitol, a common artificial sweetener.
Aside from food choice changes you should also make sure that you chew your food completely before swallowing, that you eat slower and in a more relaxing environment, and that you avoid eating during times of increased stress.
If your stomach pain continues or worsens after you have make these dietary changes you will need to make an appointment to speak with your doctor in order to rule out other medical conditions or diseases.
You might also like...