What is an Endoscopy?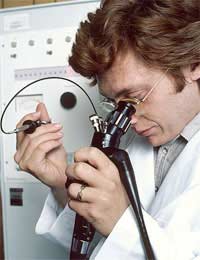 For some kinds of tummy discomfort, a physician might decide to conduct an endoscopy. If you are wondering just what the procedure involves, you should continue reading to learn what to expect when you undergo an endoscopy. Your doctor will also be able to answer any questions you have about the procedure.
What is an Endoscopy?
An endoscopy is a type of procedure that involves examining the inside of your body using a tool known as an endoscope. The endoscope is very thin and long as well as flexible.
It has a both a camera and light source, which allows a physician to see what the inside of your body looks like. Usually, an endoscope is inserted through your anus when your doctor wants to find out more about your signs and symptoms relating to your tummy or bowels.
Why Do I Need an Endoscopy?
An endoscopy is usually used as a diagnostic tool. It can be used to confirm a diagnosis when another diagnostic tool such as an MRI scan just isn't thought to be appropriate for your case.
An endoscopy can even be used to find out more about a condition that has previously been diagnosed. Sometimes, a doctor will want to find out more about the specific condition or investigate the damage caused by the condition. In this case, an endoscopy can be very useful. It will be of aid in your doctor's formulation of the best treatment plan for your health.
Endoscopy and Health Conditions
An endoscopy can help to diagnose many different conditions, such as:
Stomach ulcers
Bleeding that is internal
Urinary tract problems
Irritable bowel syndrome
Cancer
Where the concern is cancer, an endoscope can help a physician because it allows for sampling of tissue, which is then examined for cancerous cells.
Specialised endoscopes can be used as well, which address different health conditions and concerns.
Getting Ready for an Endoscopy
You might receive some antibiotics to prevent infection and you might also be advised not to eat or drink for a number of hours prior to your endoscopy. Some people will be given a laxative to clear their bowels. You will receive your endoscopy in a hospital or possibly a local clinic.
What Should I Expect?
During an endoscopy, you will be awake although because some people are tense or nervous, a sedative might be administered to help keep you feeling calm. The procedure is not a painful one although some people find it to be a bit uncomfortable. You might also receive a local anaesthetic.
An endoscopy is a relatively short procedure that only lasts for half an hour to an hour. You won't need to stay at the hospital overnight either and will be able to return home after the procedure, as long as you have someone to pick you up.
Risks of an Endoscopy
Endoscopies are quite safe procedures and the risks are minimal. They include the possibility of an infection or the perforation of an organ, which is rare. Some people may also have an allergic reaction to the anaesthetic.
It is normal that you might have some anxiety around the procedure but it is necessary to help your doctor provide you with the best treatment for your health. If you follow directions, it is more likely than not your endoscopy will provide valuable diagnostic information, which means you can obtain the best treatment plan possible.
You might also like...