Nicotine and your Stomach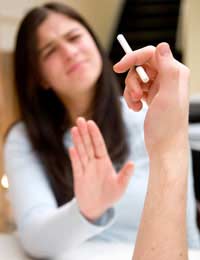 A large percentage of the population today enjoy smoking the occasional cigarette. For some of us however the introduction of nicotine into our systems can not only cause problems with the lungs, the heart and the arteries but also with the stomach, abdomen and intestines.
Nicotine is one of the largest contributing factors in the suffering of the following:
Leaky Gut Syndrome
Irritable Bowel Syndrome
Ulcers
Heartburn
Hiatus Hernia
There are many other conditions brought about by smoking and indeed many of them are attributed to excessive amounts of nicotine being introduced into the body.
Nicotine and Stomach Problems
If, for example, you are a heartburn sufferer you will no doubt be all too aware of the problems nicotine can cause. Heartburn sufferers often find increased instances of the condition are brought about by smoking because the nicotine causes an over-stimulation of the stomach and therefore leads to an overproduction of stomach acid which – when it has nowhere else to go – will rise up and cause heartburn.
Both Leaky Gut Syndrome and Irritable Bowel Syndrome sufferers too suffer greatly from the effects of nicotine on their system and many doctors believe that it is not just important to curb smoking to protect the heart and lungs but also the organs that are used for the purposes of digesting food and expelling waste products from our systems.
Smoking also causes a reduction in the blood supply to the intestines, which, in itself, can lead to a myriad of problems.
Seeking Help
If you are suffering, or believe you are suffering, from one of the aforementioned conditions then consulting your doctor is a must. But be warned in advance your doctor will doubtlessly ask you if you smoke and if the answer is yes, regardless of the amount you smoke, your doctor will automatically advise that you stop as soon as you can.
Of course as any smoker will tell you it is not simply a case of putting the cigarettes out of harm's way, there are also the habit forming elements to be taken into consideration. It is not just a case of craving nicotine, smoking is something that allows the brain to form associations such as having a cigarette after a meal, or whilst socialising with friends etc and in trying to quit you should seek medical advice and not simply try to stop. Willpower is important certainly but the medical implications should also be addressed.
Anyone suffering from any condition that affects the abdomen, intestines, bowel, stomach etc should be aware that continuing to smoke will add to their chances of reduced recovery so taking the initiative to stop is one that will benefit you greatly in the long term.
Most of the ailments we are discussing are affected greatly by nicotine and indeed, for the most part, where many of them may occur in people who do not smoke, it has to be addressed that smoking will greatly increase your chances of contracting one or more of them.
If your doctor informs you that you are indeed suffering from one of the ailments attributed to the stomach then seriously considering the giving up of tobacco is something you should do without delay and again your doctor will be more than happy to help put you on the path to giving up.
You might also like...
Can simply nicotine(vaping) cause an increase in bad bacteria in the stomach?
Joe
- 30-Dec-16 @ 6:51 PM