Fast Foods and Your Tummy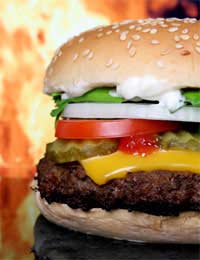 It isn't news that fast foods aren't exactly the healthiest option today. Still, most of us will likely have a fast food meal once in a while, hopefully with the aim of healthy eating the remainder of the time. Others who eat fast food regularly and tend to suffer from an upset tummy should learn how to obtain relief by making healthier choices.
Eating fast food does leave some people with a tummy that feels less than great, whether it is due to the salt content, fat, sugar, additives or enormous portion sizes. Have you ever wondered just how fast foods affect digestion? If so, learn how you can choose healthier fast food options or minimise discomfort from a fast food meal.
How Does Fast Food Upset My Tummy?
The vast majority of fast foods are high in fat – some in the more harmful saturated fats. While a number of fast food chains have more recently committed to reducing the saturated fat in their foods, the overall high fat content can upset your tummy.
Some fat in the diet is important. Fat contributes to feelings of satiety and takes longer to digest, which can keep you feeling fuller for longer. It can help keep bowel movements regular and has a lubricating effect in digestion. Too much fat in a meal, however, makes the digestive process a slower one.
It's actually one reason why dieters should ensure they aren't eating a diet that is too low in fat because fat is important for sustained fullness. Too much though, and you will feel those uncomfortable feelings of overeating long after you finish your fast food meal.
Fast Foods and Sodium
Another reason people don't always feel well after a fast food meal is due to the sodium content, which is almost always exceptionally high. You may be left feeling bloated, nauseous or dizzy from a fast food meal. Also, one study found that a high-salt diet was associated with an increase in stomach ulcers. It is yet another reason to think about how often you eat fast foods and how you can minimise the negative effects when you do.
Better Fast Food Choices
There are ways to make your fast food meal a more enjoyable one for your tummy. Consider ordering the child-sized meals to reduce portion sizes, especially with all of the super sized options available today. You can also substitute as well. This might mean still enjoying a hamburger but choosing a salad on the side instead of chips.
Simply omitting a soda or a milkshake can also reduce calories and sugar. Excess sugar can lead to a spike in blood glucose and then a subsequent tired feeling as insulin is released to bring your blood sugar back into its required, narrow range. Some people can feel shaky and nauseous from fluctuating blood sugar levels. Reducing the sugar content of fast food meals can be helpful for your tummy and overall digestion.
Healthy Eating and Fast Foods
If you do tend to get an upset tummy from fast foods, there are a number of ways to minimise discomfort. Those who suffer from acid reflux should mostly avoid fast foods. If you do eat them, an antacid can help to relieve discomfort.
Alternative approaches are controversial in terms of how effective they are, but some professionals recommend ginger or chamomile teas to reduce nausea and help an upset tummy. Neither ginger nor chamomile are harmful, which means that they are both worth trying to ease a tummy upset from fast foods.
Fast foods are everywhere but fortunately, you can resolve to eat less fast foods while choosing healthier options when you do. For those times when your tummy is upset from fast foods, trying some of the soothing options mentioned may provide relief and help get your digestive system back to normal.
You might also like...