Broccoli to Fight Tummy Problems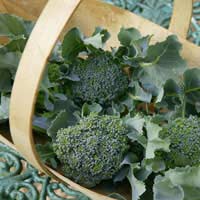 You probably already know that broccoli is good for you in terms of general nutrition but new research suggests it may help tummy problems too. While the benefits of these vitamin- and mineral-rich foods have long been touted, particularly in reducing the risks of certain diseases, this study suggests further promise.
Benefits of Fibre
The scientific study looked at both broccoli and bananas. It found that fibre from both of these foods could help boost immunity that's important as a defence against stomach infections. Researchers think that the benefits may also extend to healthy individuals by helping to prevent tummy problems.
Fighting Tummy Trouble
Clinical research is now underway to see if broccoli could be a medical tool for helping people with conditions such as Crohn's disease. Crohn's disease is a painful, inflammatory bowel disease that leaves sufferers with symptoms such as diarrhoea and tummy pain. It is thought to stem from a mix of both genetic factors and also environmental ones. Crohn's disease is generally much more prevalent in westernised nations, which we tend to frequently see diets that are poor in fibre.
Fibre in Foods and Effects on Your Stomach
Researchers discovered that fibres from the plantain are especially helpful while a typical stabiliser put in processed food did the opposite. It means that various parts of our diets can have enormously different effects on how bacteria move through the bowel. In turn, this affects the health of our stomachs and the symptoms we experience relating to diseases of the GI tract.
Increasing Your Consumption of Healthful Foods
It supports strong recommendations that patients who have inflammatory bowel conditions and other conditions of the gastrointestinal tract reduce their consumption of processed foods. At the same time, they should significantly increase their consumption of broccoli and similar foods that can promote beneficial effects on the GI tract. Eventually, more potent doses of the plantain fibres could be given in supplement form.
The Role of M-Cells in Tummy Health
In this particular study, scientists focused on some very unique cells known as M-cells. These particular cells line your gut and are primarily responsible for helping your body to keep foreign bacteria at bay. Researchers looked at cells grown in the laboratory and also samples of tissue from patients who were about to have surgery for a stomach issue.
Our understanding of how M-cells work is important because it shows more specifically how a healthy diet can improve the GI tract in people who suffer from Crohn's disease and other stomach conditions. In fact, it may have a preventative role in healthy individuals as well.
Eating More Broccoli and Bananas
We have known for years that these foods are helpful for general nutrition. They are both rich sources of vitamins and minerals that have a role in helping to reduce the risks of many diseases and health problems. Now, however, we know that they may have potential to help fight digestive issues as well, in both healthy individuals and those already suffering from a disease of the GI tract.
You might also like...
I have a tummy bug I want to know what foods I can eat while still having the bug
roo
- 30-Apr-14 @ 4:36 PM
What about Helicobacter Pylori? Are these foods beneficial to this horrid stomach bacteria. Conventional medicine doesn't eradicate it, my doctors are useless as they keep prescribing the same medication and my consultant won't use me as a guinea pig for other treatments.I feel as though no one cares enough to try and help me.Karen
Karen
- 26-Sep-11 @ 10:47 PM