Gut Microbes and Your Weight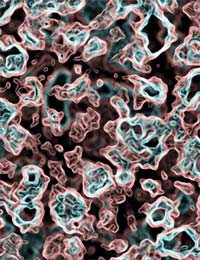 Your weight is influenced by many different factors but did you know that microbes in your gut could also affect your weight? Obesity has been an issue in children and adults for years now and health professionals have been concerned how the rates continue to rise.
We know that a diet too high in calories and low in nutrition coupled with too little activity lead to weight gain but researchers now suggest that the microbes in the gut are linked to weight gain. In fact, such bacteria that live in the gut of a baby can trigger obesity in an adult.
From Infancy to Adulthood
A study in Finland found that children who were overweight had different kinds of bacteria in their guts when they were infants. This difference relates to the bacteria you would find in children who are at a healthy, normal weight.
While many of us associate bacteria with infections and antibiotics, there are 'good' bacteria that live in the gut and help us to not only digest food but also to absorb nutrients from food. These bacteria play an important role in the digestive process, helping to keep our digestive systems healthy.
Children and Gut Bacteria
In a baby, bacteria are obtained from mother's milk, which researchers now think correlates to weight regulation many years later. To investigate, researchers looked at the bacteria in the gut of seven-year-old children but did so when these children were babies. When these children were only six months old, researchers gathered data on their gut and they did the same when the children were a year old.
Understanding the Results
What researchers found was quite interesting. The children who were at a healthy, normal weight when they were seven-years-old had high levels of a specific bacteria that is important in digestion. Their levels of potentially harmful bacteria were low in contrast.
But in overweight children, the opposite was true. The babies had higher levels of the 'bad' bacteria and lower levels of the good one. Researchers are still trying to understand exactly how these bacteria influence weight. However, they think it could be due to the bad bacteria being linked up with inflammation, which is thought to relate to obesity.
Protective Effects of Friendly Bacteria
Another thought is that helpful bacteria somehow have a protective effect, thus helping to prevent people from initially becoming overweight or obese. While more research is still needed to understand the link, researchers believe that encouraging mothers to breastfeed is still important for the health of their babies – now and as they grow up.
Addressing Overweight and Obesity
As obesity rates continue to soar in adults, their similar increase in children is worrying to everyone, including researchers. Overweight children are more likely to become overweight adults, which means we need to find ways early on to reduce obesity from occurring in the first place.
While genetics and lifestyle factors both play a role, we clearly should continue researching how factors affecting babies can begin the path to obesity and increase the risk of obesity-related diseases such as type 2 diabetes. For now though, we have another reason to suggest that breastfeeding plays a positive role in establishing good health for children.
You might also like...