How Sweeteners Affect Weight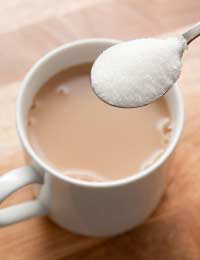 Sweeteners are a given in today's world of weight loss tactics and approaches. They are found at supermarkets and even at the chemist. Many people use them but yet the rates of overweight and obesity continue to rise. While many factors influence weight gain, some people and researchers have wondered how the 'fattest' nations are still the ones who use the most artificial sweeteners.
New Studies in How Sweeteners Affect Weight
A new study, however, might shed a bit of light on how sweeteners affect weight. While the results are not directly saying to dump out all of your diet drinks, foods and sweeteners just yet, you might want to approach the use of such sweeteners with caution.
According to the newest research, these zero calorie or low calorie sweeteners could make losing weight more challenging than we could have imagined. Scientists at a university in the United States looked at how rats responded to sweeteners.
They gave some rats yogurt that was sweetened with saccharin – an artificial sweetener – while other rats did not receive the sweetener. Researchers found that the rats that received the yogurt sweetened with saccharin ended up consuming more calories later on. They gained more weight and also gained more body fat. They also didn't balance it all out by reducing consumption later.
Understanding the Connection
You might be curious why this happened? Researchers think it could be that the sweet taste and sensation that is normally associated with foods high in calories gets confused. When the body detects the very sweet taste of saccharin, it expects more calories than it receives and the body gets 'confused' as it finds it difficult to regulate food consumption in a normal way.
Body Temperature Regulation
Another interesting find relates to the body temperature response when we eat. Typically, our metabolism rises as we eat. However, rats that responded to saccharin didn't show as much of a body temperature rise as the rats who consumed glucose (sugar). Researchers think this response is another potential reason why rats later overate and found it harder to burn off these calories.
Changing Societal Perceptions
The researchers acknowledged that this information might be difficult to take for a society that is so attached to chemical sweeteners. But it is still a valuable study that should be investigated further because it may be one reason why the use of these sweeteners doesn't seem to be offering significant benefits thus far in the quest to tame obesity.
Rats vs Humans
Still, the study was on rats and while this is an interesting initial finding, results on humans could be quite different. It's still far too early to say if you should throw out your sweeteners just yet. For now, continue to focus on portion control and a balanced, healthy diet along with exercise to manage your weight.
Professional Recommendations on Sweeteners
Overall, the British Dietetic Association (BDA) and health professionals in general are approaching the study with caution. They are citing that more research needs to be done before a recommendation against sweeteners can be made. For now, sweeteners are still considered to be a potentially helpful part of a balanced programme for weight loss.
You might also like...