How Your Gut Can Battle Fat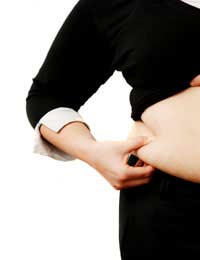 For many of us, when we hear the word 'gut' we simply think of how our guts are too big and we need to lose weight. Food goes in and weight packs on but did you consider that your gut can actually help you battle fat? It is not necessarily the enemy we may imagine it to be and new research is now telling us just how helpful our guts can be in the quest to lose weight and battle obesity.
New Ways to Treat Obesity and Diabetes
To understand how your gut can be helpful to your weight loss goals and to helping prevent type 2 diabetes, we have to look at the hormones involved in digesting our food. After you have eaten a meal, you have a hormone known as peptide YY that is sent into the blood from your GI tract.
Hormones in Your Gut
This hormone then exerts its influence on your brain, which has the important result of making you feel full and reducing your need to eat again. The consequences of this hormone led to researchers pondering how it might work as part of a weight loss programme. However, what needed to be investigated was if the effect of the hormone could continue past a couple of weeks, which is a key part of the success of any treatment for weight loss.
Lower Body Fat
Researchers used mice that were genetically programmed to make more of the hormone. They found that increases occurring over a longer period of time could trigger lower body fat in the mice. Not only that, but these levels could be maintained as well.
Replacing More Extreme Approaches
Given the problem of obesity today, we have many significantly more extreme approaches to helping people lose weight. These include surgeries such as stomach stapling and similar measures.
This kind of research is particularly promising because it is far less severe, invasive and extreme than many other weight loss interventions. It isn't to say that there is no place for surgery and other approaches but those are more of a last resort when all other measures have failed.
If we can harness the power of this natural hormone to help people shed weight and maintain this weight loss, we can make an important difference in lowering the frequency of obesity and related diseases such as type 2 diabetes.
Putting Results to the Test
Still, the experimentation is on mice and while it's a good way to initially see if the hormone shows promise in treating obesity, humans may react quite differently. The next step will be to look at how the results might occur in humans and whether we still have a promising outcome.
Other Hormone Benefits
Another key benefit of the hormone is that it also helps people to remove sugar from the blood, which means it might have special applications in the prevention of type 2 diabetes. Yet another important benefit was that this hormone enhanced functioning of the thyroid, resulting in a raised body temperature and metabolism.
While the hormone does show many benefits, it will still need to be used as part of a healthy diet and exercise programme of weight loss. The idea is that it will enhance a healthy programme that is already in place, rather than completely replace it. For now, continued research will hopefully find the right way to harness the benefits of this hormone for safe use in humans.
You might also like...