Exercise: One Way to Better Digestion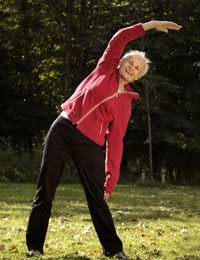 While there are countless ways to improve digestion, one of the most important but often neglected ones is exercise. Not only that, but exercise has many indirect effects on digestion because it influences our eating habits and can change our lifestyles as well.
Our food and digestion are far more closely linked to exercise than many of us realise but in that same light, exercise can also have some negative effects on digestion. This means that you need to learn more about your body before racing outside to go for a run, with the thought that your digestive system will quickly benefit.
Eating for Exercise
Because our bodies require sufficient energy for sustained movement and a full stomach feels less than pleasant if you're going to be moving quite a bit, exercise can encourage good food choices. In turn, this encourages healthy digestion.
Eating a smaller snack an hour or two before exercising can provide the necessary fuel you need for your exercise. Often, when people begin an exercise programme, they do a new evaluation of their eating habits. You might use this time to choose healthier foods that improve digestion.
Constipation and Exercise
Constipation is a chronic problem for many Britons and others around the world. Surprisingly, handling constipation can be as simple as lifestyle changes such as adding in exercise to your daily routine. Doctors routinely cite a lack of physical activity as a barrier to good digestion.
By going for a walk or performing some other relatively light exercise an hour after a meal, you improve breathing and heart rate, encouraging contraction of the intestinal tract and giving you improved bowel movements.
Heartburn and Exercise
Heartburn is a painful symptom of gastroesophageal disease (GERD) but there are ways to use exercise to improve the pain. Generally, lower impact exercises that keep you upright – such as riding a bicycle – can be helpful. Stress-reducing or strengthening exercises such as yoga or pilates are similarly helpful because heartburn can be triggered by stress.
Studies Show Benefits of Exercise
A study of nearly two thousand men and women found that regular physical activity coupled with a healthy diet can ease stomach discomfort, diarrhoea and irritable bowel syndrome (IBS). Yet, it makes one wonder why so many people still don't choose to exercise. Getting your body moving is a lifestyle adjustment and it may be better to try adding in small bouts of daily exercise – perhaps in ten minute increments – to help make exercise a regular part of your life.
Exercise in Moderation
Still, you should keep in mind that more intense exercise can also upset the digestive system in some people, particularly runners and those who regularly partake in high-intensity, lengthy exercise. These people may experience stomach cramping or the need to use the toilet during or after exercise.
There are a number of theories about why this occurs mostly in runners. One thought is that it's not the exercise itself but the accompanying lifestyle factors shared by many runners, such as eating a high fibre diet. If the diet is too high in fibre, you can lose valuable nutrients and find your bowels are in overdrive.
Another school of thought is that the mechanical movement of colon contents results in the need to go to the toilet. Or alternately, the upright posture is playing a part as well. Regardless of why it occurs, you should listen to your body and adjust your exercise intensity accordingly.
Choose an Enjoyable Exercise
For most people, walking is a relaxing, safe and easy way to improve digestion while also enhancing your overall physical health and well-being. It's always best to prevent rather than treat, so consider exercising as a way to prevent constipation and health conditions of the gastrointestinal tract.
If you're already dealing with a health condition of the gut, talk to your doctor about the best way to start an exercise programme. If you choose an enjoyable exercise, you can reap the full digestive rewards.
You might also like...