Symptoms of Pancreatitis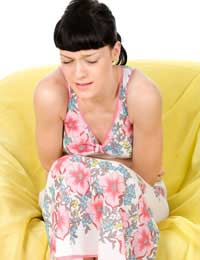 Pancreatitis is a potentially life-threatening illness that is characterised by the inflammation of the pancreas. In most cases the initial inflammation is brought on by a disruption of the normal function of the digestive enzymes that are produced in the pancreas. The actual cause of this disruption determines the type of pancreatitis that develops.
The formation of gallstones or the excessive use of alcohol can result in the development of acute pancreatitis. Alcoholism a blocked pancreatic duct, hypercalcemia, and hyperlipidemia can all cause the development of chronic pancreatitis. Both types of pancreatitis are characterised by severe abdominal pain.
The Symptoms of Acute Pancreatitis
An attack of acute pancreatitis usually develops quickly, without any prior warning of illness, and usually resolves fairly quickly without medical treatment. The most common symptoms of this type of pancreatitis are severe upper and central abdominal pain, deep back pain, abdominal swelling and tenderness, fever, nausea, vomiting, feelings of fatigue, light-headedness, difficulty concentrating, headaches, irritability, low blood pressure, sweating, shallow breathing, and dehydration.
If the attack of pancreatitis is severe enough individuals could also suffer from shock. Shock occurs when quantity of fluid in the blood is too low. This can occur if the individual is dehydrated and unable to drink or hold down adequate fluids. Once shock occurs the individual may also experience rapid heart rate, an even greater drop in blood pressure, cold sensations in the extremities, and changes in mental status.
If dehydration or signs of shock are indicated the individual should go to an accident and emergency department or seek medical attention immediately. Treatment for severe dehydration could include intravenous fluid replacement. Once the dehydration is controlled and the body and organs are well hydrated, the symptoms of shock should subside.
The Symptoms of Chronic Pancreatitis
Since chronic pancreatitis is slower to develop and present for longer periods of time, the symptoms of this condition can be different from acute pancreatitis. The most common symptoms of chronic pancreatitis include abdominal pain that becomes worse after eating or drinking, back pain, weight loss, malabsorption (caused by the lack of digestive enzymes and the inability of the small intestines to breakdown food particles properly), nausea, vomiting, and diabetes. Long lasting symptoms can also lead to irreparable damage to the pancreas.
The Characteristic of Pancreatitis Abdominal Pain
Since abdominal pain is a symptom of both types of pancreatitis and can be a sign or symptom of many different digestive disorders or medical conditions, it is important to be able to distinguish the pain of pancreatitis from other types of abdominal pain. The key characteristic of pancreatitis abdominal pain is its tendency to be relieved by switching positions. Many individuals can find temporary relief from pancreatitis abdominal pain by sitting up and bending forward in their chair.
Complications Caused by Pancreatitis
Aside from experiencing the symptoms associated with both types of pancreatitis, you could also develop complications from the disease. Common complications of pancreatitis include pancreas damage or pancreatic tissue death, infection, heart tissue damage, and lung damage. Most of these complications can be avoided by securing prompt and effective medical treatment at the first sign of aggravated symptoms.
You might also like...