Symptoms of Irritable Bowel Syndrome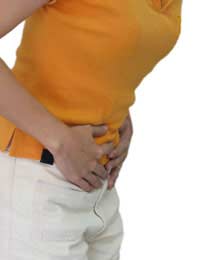 Irritable Bowel Syndrome or IBS is a chronic disorder that affects the function of the intestines and digestive system. Although the disease can affect individuals in different ways, there are some common symptoms that characterise this disorder.
Common Symptoms of IBS
The most common symptoms associated with Irritable Bowel Syndrome are diarrhoea, abdominal pain and bloating. After an individual with IBS has eaten a large meal or experienced an episode of stress they may begin to feel abdominal discomfort and cramping that is shortly followed by a bout of diarrhoea or loose watery stools. These symptoms can last for hours or minutes after initial onset and usually occur within an hour of eating or becoming nervous or stressed.
Other symptoms of IBS include constipation, mild abdominal discomfort, increased urgency to use the restroom, increased bowel movements, intestinal gas and increased intestinal spasms.
The onset of these symptoms comes without warning and the act of completing a bowel movement usually relieves the symptoms.
Symptoms Associated with the Diagnosis of IBS
Although the previously mentioned symptoms are characteristic of Irritable Bowel Syndrome, your doctor will refer to a different set of requirements and symptoms before establishing a diagnosis of IBS. The medical criteria for an IBS diagnosis calls for the experiencing of abdominal pain or discomfort for at least twelve weeks out of the past twelve months. During these bouts of abdominal pain the individual must also experience diarrhoea or constipation, a change in the frequency of bowel movements, a change in the way a stool is passed (straining to go, feelings of unfinished bowel movements, or increased urgency to have a bowel movement) and feelings of gas or bloating. Individuals must also experience relief from their symptoms shortly after having a bowel movement for the doctor to link the symptoms to IBS.
When diagnosing Irritable Bowel Syndrome doctors also run tests to rule out any other intestinal conditions, check for increased mucus in stool samples and record a medical history of the patient that helps eliminate other causes such as diet or disease.
Tracking Your IBS Symptoms
In order to help your doctor make the diagnosis of IBS and to better control your discomfort, it is a good idea to track your symptoms for a few weeks prior to your first doctor's appointment. The best way to track your symptoms is by keeping symptom diary.
For accurate tracking purchase a blank notebook and head each new sheet with the date and day of the week. Each time that you experience any symptoms (diarrhoea, cramping, constipation, abdominal pain) note the time of onset, the severity of the symptom, and the time that the symptom goes away. You will also want to make a note of when you ate last before the symptom occurred, what you ate and if you were feeling stressed or nervous at the time. Be sure to include any liquids you may have consumed with, before or after the meal.
If you do not have any symptoms for one or more days be sure to note that in the diary as well. You will also want to note what you ate and drank on these symptom-free days. This information will help your doctor rule out food allergies and other disorders.
Once you have a completed symptom diary your doctor can more easily diagnose your condition and you can use the information in the diary to help control your symptoms. For example, if you notice that you always experience symptoms if you eat a big meal late in the evening you can change your schedule and eat your biggest meal of the day at noon and choose a small snack for dinner instead.
Recognising and tracking the symptoms associated with Irritable Bowel Syndrome is important to your health. By consistently detailing your individual symptoms you can start controlling the disorder and help your doctor make an accurate diagnosis.
You might also like...