Gastroenteritis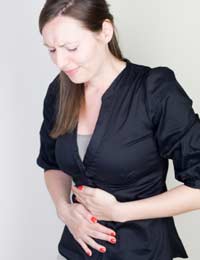 Gastroenteritis is the medical term used to describe the irritation and inflammation of the digestive tract. Inflammation or infection that affects the oesophagus stomach, or bowels can cause severe diarrhoea and vomiting.
Types of Gastroenteritis
Although most abdominal pain and symptoms fall into the category of gastroenteritis there are actually two main types of the condition: viral and bacterial. Viral gastroenteritis occurs when virus that causes abdominal pain, diarrhoea, nausea, and vomiting enters and infects the digestive tract. This type of virus can be spread through close contact and the sharing of food or eating utensils.
Bacterial gastroenteritis is caused by the presence of bacteria in the digestive tract. This bacterium can enter the system through the consumption of tainted food and contaminated water supplies.
Viral gastroenteritis is usually mild in severity and will clear up untreated within a few days. Bacterial gastroenteritis, however, requires medical treatment and the symptoms may last for up to a few weeks. The two most common causes of these forms of gastroenteritis are the rotavirus, which is seasonal and hardly ever serious, and the Norwalk Virus, which is transmitted through contaminated food and water.
Symptoms of Gastroenteritis
The main symptoms associated with both viral gastroenteritis and bacterial gastroenteritis are nausea, vomiting, abdominal cramping, and loss of appetite, fever, and dehydration. In some cases chills, weakness, and fatigue can also accompany these symptoms.
The most serious symptom of gastroenteritis is dehydration. Dehydration can occur with excessive vomiting or diarrhoea. When signs of severe dehydration, such as excessive thirst, absence of urination for over six hours, dry mouth, sunken eyes, and crinkled skin, occur medical attention should be sought as soon as possible.
Treatment for Gastroenteritis
Although some cases of gastroenteritis will clear up on their own there are some steps you can take to speed healing or relieve the most common symptoms. Start by getting plenty of rest. During bouts of vomiting and diarrhoea decrease activity and movement that can increase severity of symptoms. For abdominal cramping or pain take a non-aspirin pain reliever since those that contain aspirin can further irritate the stomach and digestive tract. To treat fever acetaminophen is a good medication choice.
To help alleviate the most bothersome symptoms of gastroenteritis is best to change your diet until the illness has passed. Avoid dairy products such as milk, spicy foods, fibrous fruits and vegetables, fatty or fried foods, foods that are high in sugar, caffeine, and alcohol until your symptoms subside. If you do feel like eating you should only consume clear liquids such as broth or gelatine, and bland foods such as crackers, white bread, clear soups, oatmeal, applesauce, and rice. Also make sure that you drink at least eight 8 oz glasses of water, Gatorade, or other mineral containing sports drinks each day to ward off dehydration. After your symptoms subside you should still avoid a regular diet for at least two days in order to give your digestive tract time to heal and recover.
When to See a Doctor
If self-treatment does not help relieve the symptoms of gastroenteritis you may need to see a doctor to rule out other illnesses or bacterial gastroenteritis. Other conditions in which you should seek medical attention include: fever above 101 F, vomiting that lasts for more than two days, diarrhoea that lasts for more than four days, signs of intense dehydration, light-headedness, fainting, or confusion, or diarrhoea that contains blood or excess mucus. You should also see a doctor of regular symptoms persist or worsen after getting better. Some, more serious conditions can mimic the symptoms of gastroenteritis and treatment for these conditions needs to begin as soon as possible.
You might also like...