Antibiotics and Your Tummy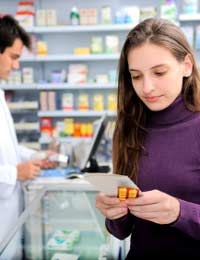 Most people will have to take antibiotics at some point in their life. Antibiotics are an important medicine for dealing with bacterial infections and other health conditions. But, as with virtually any medicine, they do come with side-effects.
Disrupting Healthy Gut Bacteria
One such side-effect of antibiotics is that the balance of 'healthy' bacteria in your gut can be severely disrupted. While we have known for some time that antibiotics affect the levels of good microbes in the gut, it is only recently we have learned to what extent this is a problem.
Looking at Case Studies
Several in-depth case studies of women taking the antibiotic ciprofloxacin showed significant effects on the helpful bacteria in the gut. Full populations of these beneficial microbes were completely suppressed. In fact, one woman took a number of months to recover to the point where she had normal levels of these beneficial bacteria.
Improving Beneficial Microbe Populations
This recent study supports previous ones that have shown how and why 'probiotic' products, such as yogurt and supplements, can help with raising the levels of these good bacteria in the gut. Often, such supplements will be taken after a course of antibiotics to help restore the gut to its previous health.
Testing Gut Microbes
For the case studies, researchers did daily tests on the participants to look at the types of microbes living in the gut. Participants were taking a five-day course of ciprofloxacin, although researchers conducted the study over nearly a year to see the outcomes after the antibiotics were stopped. They did stool samples to assess the microbes and were surprised by how severe the effect of antibiotics was on gut microbes.
Getting Back to Normal
It took approximately a week after the antibiotics were finished that gut microbes started to get back to normal. This return to normality, however, did not mean the populations were at the same level as they were prior to the course of antibiotics. In some cases, this can take months to occur.
Preventing Harmful Gut Bacteria
The consequences can be major because beneficial gut microbes help us to digest our food. These positive, helpful bacteria can also keep the harmful microbes away from our gut. Some of these more harmful bacteria have been linked to health conditions such as Crohn's disease and colitis.
Taking Care of Your Body
While antibiotics remain important for many of us to rid our bodies of bacterial infections and other health conditions, their negative effects should not be ignored. Talk to your doctor about how you can keep your gut healthy when taking antibiotics. A simple supplement of symbiotic bacteria or regular consumption of yogurt can help your body to get back to normal after taking antibiotics.
In particular, those on long-term courses of antibiotics may need to put into place measures to help restore healthy gut bacteria. This can help prevent some of the side-effects of antibiotics such as diarrhoea and constipation. In turn, you can reap the benefits of these medications while still maintaining a healthy tummy.
You might also like...
I have daily bouts of very bloated stomach with lots of wind mostly burping and can be either very hot or very cold even though house maintains about 20 degsC. Can last anything up to about four or five hours . Waiting for a camera investigation but don't know when. cannot face food when this occurs and can occur before or after meals. Also taking Dicycloverine20mg three times daily but makes little noticeable difference. Cannot have MRI as I am fitted with an ICD, been getting worse since gallbladder removed last October
Dave
- 26-Mar-13 @ 7:37 PM
Why do we have lots of problems? why cant we just not have pain anywhere.
Monamf456
- 19-Aug-12 @ 4:53 PM