How Your Job Can Hurt Your Tummy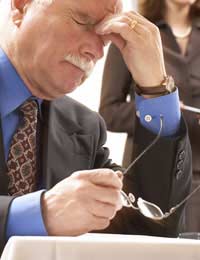 Work for many of us is where we spend the vast majority of our time. So in cases where work is harming our health, the effects can be quite significant. For many people, the source of their tummy troubles is actually rooted in their job.
The common thread is stress, which can put you at an elevated risk for a number of conditions affecting your gastrointestinal tract. For those who already suffer from these kinds of diseases, work-related stress can exacerbate symptoms.
Irritable Bowel Syndrome (IBS) and Stress
IBS is very common and stress is a key trigger of IBS symptoms. IBS is somewhat of an umbrella term that can refer to a range of different issues. When a person feels stressed from their job, various hormones and chemicals are released, influencing the digestive tract and leading to symptoms.
These symptoms can include constipation, abdominal pain and nausea, among others. As a person suffers from contractions, they may find they experience diarrhoea.
Whether a person has an increase or decrease in waste passage due to stress is entirely individual, making the treatment of IBS a challenge. Overall, where workplace stress is identified as a cause, relieving this stress can usually result in an improvement in your personal IBS symptoms.
Stomach Ulcers and Workplace Stress
Many other stomach issues can occur from stress. Stomach ulcers are part of this group of stomach problems that are linked to anxiety. A stomach ulcer is essentially an erosion in the GI tract.
Symptoms can include nausea, burning, pain and many others. They may come and go and are affected by other lifestyle factors. Where a person suffers from prolonged stress at work, they are thought to be at a higher risk of eventually suffering from a stomach ulcer.
Preventing Tummy Troubles Due to Workplace Stress
While the obvious way to prevent tummy troubles from stress would seem to be that you need to reduce stress, it's not always so simple. It's a process to learn how to manage stress and this can be uniquely individual.
Changes to Workload
Where you may be dealing with an unreasonable workload, try talking to your boss about the consequences on your health and how you might better manage projects. Sometimes, this is all it takes to alert those to what is happening. These are the key people who can then address the root cause of your stress where it relates to your workload.
Some people find that going for a walk at lunch or partaking in regular exercise helps them to better manage stress. Counselling and similar forms of therapy can make a big difference for some people when it comes to managing workplace stress. Other simple measures include aromatherapy mists and essential oils to keep at your desk where appropriate. Massage is another helpful way to deal with stress and where you can schedule this into your workday, it may be even more helpful.
Eat a Nutritious Diet
A healthy diet is another approach that can help with reducing stress. Believe it or not, diets excessively high in sugar can leave you feeling more emotionally challenged as they wreck havoc on your blood sugar. The key is to try to reduce all the factors that worsen workplace stress. At the same time, you need to promote a healthy mind and body, plus add in coping mechanisms to help you handle it when it occurs.
Work should never cause stress that leaves you with a frequently upset tummy. From time to time, you may have a 'big' presentation that leaves your tummy a bit upset from nerves. But while the occasional bout of tummy trouble can be normal, regular digestive issues from workplace stress are not normal. Resolve to make changes that reduce stress and start enjoying a healthy, comfortable digestive system again.
You might also like...