Endometritis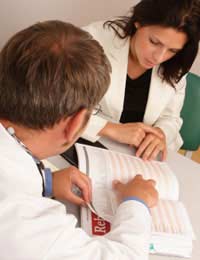 Endometritis is the medical term used to describe an inflammation of the inner lining of the uterus. This inner lining or endometrium, can become inflamed in the presence of infection or as a symptom of another condition. Depending on the exact cause of the inflammation and the duration of the condition the inflammation is classified into one of two catagories: acute endometritis or chronic endometritis.
Chronic Endometritis
Certain diseases such as chlamydeous, pelvic inflammatory disease, or tuberculosis cause chronic endometritis. Chronic endometritis is characterised by the variable number of plasma cells that can be found in the endometrial stroma or lining. In some cases of chronic endometritis such underlying conditions as cancer can also increase the severity and symptoms of the disease.
Acute Endometritis
Acute endometritis is short-term inflammation of the endometrium caused by infection. Infections can begin in the area through the use of non-sterile medical instruments, complications during abortion, compromised child birth, repeated pelvic exams, and through residual fragments of placenta being left in the uterus after abortion or childbirth.
Symptoms of Endometritis
Although the causes of endometritis can differ the symptoms are almost always the same. Common symptoms of endometritis include pain or cramping in the lower abdomen, abnormal vaginal bleeding, abnormal vaginal discharge, increased vaginal discharge that is abnormal in quantity, colour, consistency, or smell, high fever, constipation, and pain during bowel movements. Symptoms of chronic endometritis can also include severe pain with menstruation, heavy bleeding, and nausea.
When the above symptoms are presented to a doctor for diagnosis he or she will run several tests to confirm or rule out endometritis. The most common tests performed are blood tests such as a WBC (white blood count) which checks for the presence of infection and ESR (sed rate), endocervical cultures from vaginal swipes or scrapes, which help diagnose chlamydeous and other infections, endometrial biopsies to identify abnormal cell structure, and laparoscopy to remove infected tissue for further study. Once endometritis has been confirmed proper treatment can be prescribed.
Treatment of Endometritis
The most common treatment for endometritis is the prescribing of antibiotics. For less severe cases or in the case of chronic endometritis these antibiotics can be taken at home until the condition improves or clears. Also, some doctors and patients have seen improvements in the symptoms of chronic endometritis with the regular use of oral contraceptives (birth control pills). In acute cases the antibiotics may need to be administered intravenously and the patient would have to be hospitalised. In this instance the intravenous antibiotics are usually followed with or used in combination with oral antibiotics as well.
During treatment for endometritis it is important that the patient get plenty of rest, that they remain well hydrated, and that they use a condom when engaging in sexual activity. In some cases the partner of an infected person will also need to treatment with a course of antibiotics. If treatment with antibiotics is unsuccessful the condition can become more serious. Untreated endometritis or resistant endometritis can lead to septic shock, infertility, and the formation of uterine abscesses.
You might also like...