How Cauda Equina Syndrome Affects the Stomach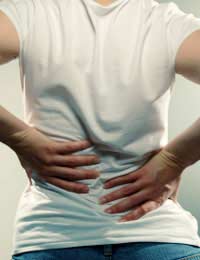 Cauda Equina Syndrome is the condition that comes about if the nerves within the spinal canal have become damaged. The result of this problem is that the nerves which supply the legs bowel, bladder and other lower extremities fail to respond properly leading to short-term (if not permanent paralysis) as well as bladder and bowel problems right through to impotency.
Although Cauda Equina Syndrome is generally known to cause the sufferer problems with their spine and also their ability to walk it is also important to remember that the condition will attack the abdomen, lower abdomen, the bladder and the bowel.
This becomes a major problem for the sufferer if they begin to have problems passing water or indeed faeces. An inability to urinate or excrete properly then in turn leads onto other problems, which can involve issues with the stomach and the digestive tract.
How Cauda Equina Affects the Stomach
Many people fail to realise that the stomach and the abdomen – although in a different league to the spine and the muscles of the back and neck, all interconnect and if there is a problem with one then it is almost inevitable that there will be a problem with the other.
Problems with the nerves in the lower back have been synonymous with bladder and bowel problems for many years and it is only in recent years that scientists and doctors alike are making the comparisons and beginning to treat both conditions as possibly being one.
For a sufferer of problems with their stomach and digestive tract it is important that they seek the relevant help from their doctor at the earliest possible stage so as to reduce the risk of these problems becoming more severe.
Not only will Cauda Equina potential leave the sufferer in a permanent state of paralysis but it can also lead to incontinence as well; something that is impacted upon by their dietary considerations.
These problems – ranging from either end of the spectrum – can include constipation, diarrhoea and general incontinence where the sufferer might not be able to control their bladder or bowel movements. In these instances the introduction of a catheter is necessary to aid in the regular disposal of waste material from the bladder and the bowel.
It is worth also noting that with these problems regular fibre and liquid intake are essential to prevent dehydration.
Getting Help
Your doctor will advice you on how to go about this should it prove necessary but for the most part if the sufferer is persistently plagued by constipation then it is fairly safe to assume they are not taking enough fluid on board and regularly topping up with water or a light fruit juice can go some way to help deal with the problem.
Your doctor may also ask you to consider a weight loss program; if he or she asks you to consider this as an option it is not necessarily a matter of losing weight to look good but more often than not it is a method of reliving the pressure being placed on the spinal column and the vertebrae that are dotted along it.
Many sufferers of the condition find that being even slightly overweight can radically affect their condition and their quality of life. So again it is important to consider what and how much you eat and also the nature of the foods you are eating.
The most important thing to remember is that the more fat you consume without properly exercising, the more additional fat you body will take onboard which then manifests itself in a build up of weight.
Eating well and drinking plenty of fluids are not the only answers to this problem but they are important things to remember if you are trying to combat an otherwise debilitating condition.
You might also like...
I have had cauda equina syndrome now for 10 years. For a considerable amount of that time I took dihydracodeine for pain relief. This led to me becoming dependant on the tablets. For the past 2 years I have been slowly dropping the amount of dhc I have been taking, I am currently down to 2 a day. Since the amount has dropped do low, I have been noticing many stomach problems, mostly bowel related. I now have almost permanent dioreaha unless I take a higher volume of dhc (which obviously moves me toward constipation) and i wonder these things. Firstly, have I always had dioreaha that has been masked by the fact that I have taken dhc for so many years and now that my dhc amount is dropping sufficiently it's showing through. Has dropping dhc to this level in itself after so many years dependant changed my body significantly enough to cause this problem. Or have I 'developed' this condition because of cauda equina? Or is there another explanation? Any help, or opinion will be greatly appreciated. Thanks.
Kutter
- 18-May-18 @ 1:07 PM