What is Causing This Pain Under the Ribcage?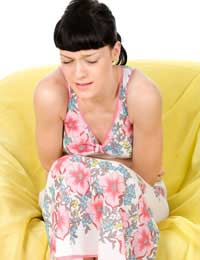 Q.
My 16 year old daughter has had a stomach ache every night for the past week. The pain is located just under the rib cage. She says it feels like her stomach has been twisted inside.
Can you advise what might be the cause of this? She's not keen on going to see a doctor (like many teenagers).
(M.S, 4 May 2009)

A.
I am sorry to hear about your daughter's stomach pain. It is probably quite worrying and frustrating as a parent to not know what is the cause of her discomfort.
Seeing a Doctor
Ultimately, your daughter needs to see her doctor to have her pain properly investigated. Hopefully, her doctor can determine what is causing the pain, which will allow for the right course of action and treatment where appropriate.
For now though, there are a number of potential causes that can put you on the right track to finding out what is triggering her stomach ache and pain under her rib cage. Medically speaking, rib cage pain refers to the types of pain and discomfort that occur in and around the ribs.
Broken Rib
While a broken rib is unlikely, it should still be considered. When a broken rib occurs, the pain is typically more intense when a person bends over or twists and moves the body. It is therefore different from pain in other conditions where the pain relates to the lungs, for instance.
Pleurisy
Pleurisy is an inflammatory condition in the lining of the lungs. It can be extremely painful and can take weeks to months to resolve. It can occur following several illnesses such as pneumonia or a similar infection. It tends to be a pain that syncs with breathing, because as the diaphragm expands and contracts, pressure leads to pain in this area. Coughing will usually make the pain worse as well.
Gastrointestinal Problems
There are also possible gastrointestinal conditions that could relate to her pain there. Does the pain come and go with relation to her eating habits? Are there particular foods she eats prior to experiencing the pain? These are all important considerations.
Obtaining a Thorough Examination
When your daughter sees her doctor, he or she will want to ask questions about the pain. So, it's a good idea to perhaps write down details about the pain now. Consider when the pain started and whether it has worsened over time. Also, it can help to describe how the pain feels – is it a sharp pain or a dull, constant one?
Your daughter's doctor will likely conduct an examination that focuses on her lungs and her chest cavity. A chest x-ray may also be needed as well. Hopefully, with prompt attention you will find out the cause of her rib cage pain.
You might also like...
I have a infection I am on antibiotics and steroids has I suffer from copd x I am I great Pain round ribs when I cough I have tried co dine but not helping with pain x just wondering should I go see my gp
joey
- 15-Jun-17 @ 5:12 PM
Cupcake - Your Question:
Please help I have a pain that feels like it's consuming my lower ribcage. It couldn't be broken I don't think, I haven't done anything that could result in broken ribs.
---
Our Response:
I'm afraid we cannot carry out an online diagnosis. You would have to visit your GP to find out what is causing your pain. 
TummyTrouble
- 18-Apr-17 @ 1:51 PM
Please help I have a pain that feels like it's consuming my lower ribcage. It couldn't be broken I don't think, I haven't done anything that could result in broken ribs.
Cupcake
- 18-Apr-17 @ 2:59 AM
I ALSO HAVE THIS PAIN JUST BELOW RIB CAGE ON STOMUCH AREA, ANY SUDDEN MOVEMENT,LARGE DRAW OF BREATH AND WHEN I BEND DOWN TRIGERS THIS PAIN,ANYTHING I SWALLOW EITHER FOOD OR WATER PASSES THROUGH AND FEELS AS IF LARGE AMOUNT OF AIR IS COMPRESED ONLY THAT SIDE OF STOMUCH AND THE PAIN PROPELS TO THE LEFT SIDE OF MY NECK AND THE VAINS FEELS LIKE STECHED. THE PAIN WILL LAST AS LONG AS I FARTH ALL THIS AIR OUT AND THE PAIN SUBSIDES.WHAT COULD BE THE CAUSE THIS COS IT TAKES 2 OR 3 WEEK TO SUBSIDE ALL TOGATHER BUT ONCE I TAKE AN ENERGY DRINK,JUST 1 AND NEXT MORNING THE PAIN IS BACK.
The hermit
- 24-Nov-12 @ 10:30 AM
I have had a pain in the ribcage area,just like indigestion,but the feeling goes right uyp to my throat,but worse around the ribcage.This has happend a few months ago.
dude
- 19-Jun-12 @ 7:10 PM
Epigastric pain,somtimes pain go under ribcage right side. for 2 wks. Sometimes I nousious, my abdomen feel uncomfortable. somtimes in my right groin burn like fire, now my back on kidney start paining. did drink sitracoda, nothing is helping.
Tilla
- 4-Apr-12 @ 7:34 PM