Functional Stomach Disorder, is this Really the Problem?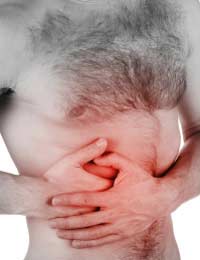 Q.I have had a problem with a delicate stomach for many years, it becomes sore and swollen if I eat too much, get up too quickly after a meal, or generally have a change of routine. It is particularly bad on holiday which rather defeats the object, as I walk about trying to enjoy myself but I am always concious of the sore bloated feeling. In fact I usually return from holiday having lost weight. I try using settlers but they do little good.
I had a camera down to check on my stomach some years ago but nothing was found. The doctor diagnosed it as a 'functional stomach disorder' which I am still dubious about. I would appreciate some advise regarding this matter.
(Mr Charles Tweed, 14 December 2008)

A.
Functional stomach disorder is a general term used by many doctor's to classify recurrent stomach condition symptoms that cannot be properly diagnosed with existing diagnostic tests. The 2009 ICD-9-CM, a medical book that contains current diagnostic codes used for insurance and patient charting, lists functional stomach disorder as a stomach illness with varying symptoms.
What Is Functional Stomach Disorder?
The term "functional stomach disorder" usually refers to one of three abnormalities of the function of the stomach in the digestive process. Under normal, non-diseased, conditions the stomach produces three types of contractions to grind down food particles, mix them with digestive acids, and move them into the intestines. When this digestive process is interrupted you see symptoms of functional stomach disorder.
Delayed gastric emptying is a condition where the contractions of the stomach do not break down food particles at a normal rate and do not move food from the stomach to the intestines. This condition leaves undigested food in the stomach too long resulting in symptoms of nausea and vomiting. Rapid gastric emptying is the term used to describe an increase in the digestive process. With this condition food is passed into the intestines before it is adequately broken down resulting in symptoms of diarrhoea or constipation.
The third condition, which most closely matches your symptoms, is functional dyspepsia. Dyspepsia refers to the symptoms of abdominal discomfort that you describe: soreness, bloating, and swelling of the stomach. Eating usually brings on the symptoms of functional dyspepsia, which can also include nausea, the feeling of being to full to soon, and pain that is felt in the area above the belly button.
How Do You Diagnose and Treat Functional Stomach Disorder?
Under current medical guidelines an exact diagnostic test does not exist for the absolute diagnosis of functional stomach disorder. However, the condition is usually diagnosed after the doctor collects a complete patient history, a list of symptoms, and performs other diagnostic tests to rule out any other possible diseases or conditions.
Currently the most common treatment regimen for functional stomach disorder includes patient education, dietary changes, and sometimes symptom directed medications such as anti-nausea drugs or muscle relaxants. In some cases patients are also prescribed anti-depressants since these two conditions seem to appear in combination more frequently.
Since you have the diagnosis of functional stomach disorder you need to follow up with your doctor regarding current treatment options and work with him to devise a plan to control symptoms that works for you.
You might also like...
@carmie - if you haven't already, you should seek help for this via your GP.
TummyTrouble
- 14-Jul-15 @ 2:01 PM
I have stomach and ischemiccolits. Going to bathroom 5 times when I wake up. Painful. Fecesis water no turds.Loosing weigh like crazy.. am now 106 lb.No appetite
carmie
- 11-Jul-15 @ 8:46 PM