Prescription Medication and Your Stomach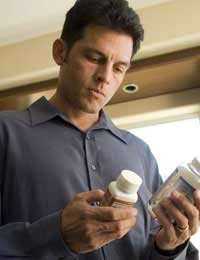 There are many of us today who will be taking prescription medication as a means of alleviating an ailment that has been troubling us; however, how many of us are aware of what this prescription medication is doing to other organs of our body?
This is not intended as a means of scare mongering but is simply stating a fact that many of us would tend not to acknowledge and this can manifest itself as not reading the instructions for use given to us by the manufacturers of these drugs.
Things to Consider
We take it for granted that our doctor has prescribed the best course of treatment for us in times of sickness and that these drugs will cure the problem quickly and effectively but we should consider that by taking large amounts of certain medications we are leaving ourselves open to the suffering of other ailments in and around the stomach area.
Most of us – at one time or another – have taken Aspirin as a means of curing a headache or toothache but it can cause if taken too frequently, problems with the liver and the stomach.
Side Effects of Medication
All prescription medications have side effects, which can include:
Headaches
Nausea
Internal Bleeding
Hair Loss
Vomiting
Diarrhoea
Skin Rashes
Inflammation of the Pancreas
Again this is not an exhaustive list and it should be acknowledged that every prescription medication is different and therefore every medication's range of side effects will vary.
Over The Counter Remedies
If you are buying medication over the counter then it is advisable that you speak to the pharmacist – if you can – and ask them to tell you what the side effects are.
This is especially important if you are already suffering from ailments relating to the stomach or pancreas. Indeed if you have ulcers of any description then certain prescription medications are a definite non-starter.
Talk to Your Doctor
Likewise if your doctor prescribes a particular medication for you and it is something that is new to you, it is best to ask them to clarify exactly what it does, what they expect it to do, and if there is anything it might do to you that is of an adverse nature.
Your doctor will be able to tell you what the drug is used for and what its side effects are and also all pharmaceutical companies are obliged by law to detail any side effects that may occur so the corresponding leaflet contained within the packaging should give you all the information you need.
In addition to this it is worth noting that alcohol and prescription medications always work in opposition to each other so the consumption of alcohol whilst you are undergoing a course of prescribed medication is something you should steer well clear of.
Ulcers, the intestines, the pancreas and the spleen are all susceptible to damage by misuse or overuse and therefore it is imperative that you – as the user of prescribed medication – are fully conversant with its uses and its pitfalls.
Do not be frightened to ask your doctor for advice or information relating to any medication he or she has prescribed for you and likewise if the medication is purchased over the counter, consult your pharmacist before embarking on a course of medication you might not normally take.
You might also like...
Found this a great site and answered all the queries I had in simple terms. Thanks.
Mazzie
- 4-Nov-11 @ 8:45 PM