Drug Resistant Bacteria and Ulcers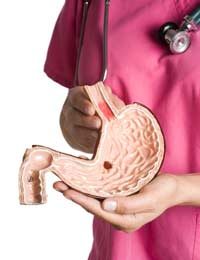 Stomach ulcers have many causes but one such cause is the bacterium Helicobacter pylori, which causes peptic ulcer disease. It has traditionally been treated quite effectively with antibiotics. Now, however, we are seeing drug resistant strains of bacteria and this is worrisome for treating people who are susceptible to ulcers.
Understanding Drug Treatment for Ulcers
A drug called metronidazole is typically prescribed for a variety of conditions – one being peptic ulcer disease. Yet, it's estimated that anywhere from ten to thirty percent of H. pylori bacteria strains don't respond to metronidazole. If we look to non westernised, developing countries, it's thought that this percentage is closer to eighty.
This kind of bacterial resistance has dangerous health implications. It is thought to be a key reason for the antibiotic treatment being ineffective as well as for why infections continue to occur in a person. It's also believed to be a reason for recurring peptic ulcers and other related stomach problems.
Analysing Resistance
Researchers discovered that H. pylori become resistant to metronidazole when a gene mutates. The gene is important because it codes for an enzyme that converts metronidazole into a compound that causes damage to the DNA and proteins in the bacteria, which leads to its death.
Unfortunately, when this gene is inactivated due to the mutation, H. pylori can't convert metronidazole, leading to the bacterial resistance. Researchers did further testing and confirmed that the gene mutation appears to be the simplest way for H. pylori to be resistant to the drug. The findings are important for helping us learn more about drug resistance, especially in people who suffer from recurrent ulcers.
Why Does Drug Resistance Occur?
By now, most of us have probably heard in the media that antibiotic resistant strains of bacteria pose a significant threat to us all. We know that antibiotic overuse has contributed to the problem and we've been warned – along with prescribing doctors – of the dangers of using antibiotics unless necessary.
For this reason, it can seem surprising that a person who has never been treated for an ulcer would have a strain that is resistant to the drug. However, that person could have been taking metronidazole for other reasons in the past. This would be enough for the individual to develop a resistant strain.
Prevention is Key
While it's certainly not a new approach, it's still one that needs to be followed – avoiding antibiotic overuse. This means only using antibiotics when you need them and always completing your full course to avoid recurrence of the infection.
Bacteria are 'smart' in that resistant strains do develop and if you're unfortunate enough to experience one of these resistant strains, it can be a major challenge to find an effective treatment.
New studies such as this recent one can help us learn more about the workings of genes and how they play a role in drug resistance. Hopefully, we can not only use care and caution when taking antibiotics but we can also find ways to address drug resistance when it does occur, particularly for painful tummy conditions such as ulcers.
You might also like...