Stress and Irritable Bowel Syndrome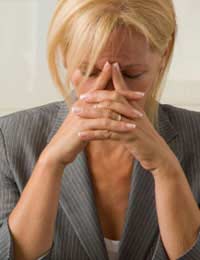 The symptoms of Irritable Bowel Syndrome also known as IBS include diarrhoea, constipation and severe abdominal pain. Although these symptoms can be treated and controlled, stress or the emotion of anxiety and nervousness can make these symptoms worse and reduce the effectiveness of any such treatment. If you suffer from IBS, a chronic intestinal disorder, you need to take steps to reduce the amount of stress in your life and reduce the occurrence of your IBS episodes.
How Stress Affects the Body
When you feel anxious, worried, overwhelmed or frantic, your body is undergoing a period of stress. When the brain is overloaded it releases chemicals to help the body and body systems function under this stress. These chemicals can increase heart rate, increase breathing patterns, cause temperature changes in the body and cause muscles to contract. During periods of short-term stress these reactions in the body can help you think clearer, function better and become stronger in order to escape or solve the danger or circumstances that are causing the stress.
However, during extended periods of stress, the brain can overcompensate and too many chemicals can be released. This overload can lead to problems with your immune system, digestive system and even your heart. Without proper stress-relieving techniques in place, extended stress can eventually lead to long-term health problems, certain medical conditions and even disease.
How Stress Affects Irritable Bowel Syndrome
Although the exact cause of Irritable Bowel Syndrome is not yet known, many doctors believe the disorder has a connection to the body's immune system. Since stress can adversely affect the immune system it can also make the symptoms and episodes of IBS worse. If you suffer from IBS, stress can increase the frequency of symptom outbreaks, increase the severity of these outbreaks and interfere with the effectiveness of your IBS treatment plan.
When your brain becomes stressed or overwhelmed by an event or thought, it releases chemicals. These chemicals act on the nerves in the colon and cause the intestines to contract or spasm, too fast or too slow. If you eat a meal while feeling stressed these spasms can speed up or slow down the digestive system to the point where you begin having symptoms of diarrhoea or constipation. An overactive digestive system can also produce excess gas when exposed to stress. This gas can lead to bloating, cramping and even severe abdominal pain.
The best way to avoid these problems with your digestive system and get control of your Irritable Bowel Syndrome symptoms is by learning effective stress management techniques.
Reducing Daily Stress
There are five main ways to reduce the daily stress you encounter: the use of relaxation techniques, getting regular exercise, getting adequate sleep on a consistent schedule, making changes to the biggest stressors in your life and attending support groups.
Relaxation techniques, like meditation, breathing exercises and thought-changing techniques, can help you reduce your stress level, slow your heart rate and reduce the amount of stress chemicals released by your brain. There are many books, classes and web sites that can teach you the proper way to meditate or use relaxation techniques. Your doctor may even be able to suggest classes in your area for learning these techniques.
Regular exercise, like jogging, walking, swimming and yoga, can improve your overall health, relieve tension in the body and reduce stress chemicals found in the blood stream. By getting at least thirty minutes of exercise each day you can reduce the effects of stress on your IBS condition.
During sleep your body repairs any damage done to the body and your brain takes a break to sort out any problems or situations that are stressing. If you do not get at least eight hours of sleep each night or if your sleep schedule changes consistently, your brain and body will be unable to relieve stress and the built-up tensions can play havoc with your IBS symptoms.
Another way to reduce the stress in your life is to change the situations or activities that cause the most stress. If your job is too demanding, you may need to take on a less responsible position. Or, if your social schedule makes you feel overwhelmed and anxious you may need to cut a few activities or obligations off of your calendar.
Finally, IBS support groups can help you relieve stress by teaching you about the disorder, answering your questions, quieting your fears and giving you a relaxed and welcoming atmosphere in which to share worries and find understanding. For a list of local support groups ask your doctor for a referral, check out support groups on the Internet or ask for a listing at your local library.
Although stress has been linked to increased IBS symptoms, it is an area of your condition that you can learn to control.
You might also like...