Coping with Irritable Bowel Syndrome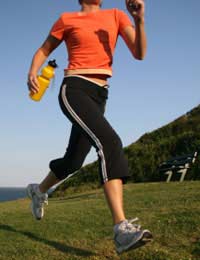 Irritable Bowel Syndrome is an intestinal disorder that results in unwanted and sometimes embarrassing, symptoms like diarrhoea, excess gas and severe abdominal pain. These symptoms can come on without warning and make it difficult for the sufferer to go about normal activity or enjoy outings and social gatherings with family and friends. In severe cases these symptoms can even interfere with an individual's ability to work, travel or leave the house for short periods of time.
Due to the nature of the symptoms and the need for the sufferer to always have an available bathroom nearby, this chronic disorder can play havoc with normal life and make living with and coping with Irritable Bowel Syndrome (IBS) extremely difficult. However, with the right treatment plan, some preplanning and a lot of knowledge, IBS suffers can learn to cope with their condition and live happy lives.
Coping Techniques to Relieve Stress
Stress and the feelings of nervousness and agitation that go along with it, are a common symptom trigger for individuals with IBS. Many sufferers notice an increase in symptoms such as diarrhoea, cramping and pain after a stressful episode. The best way to avoid the onset of symptoms caused by stress is to avoid the feelings of stress altogether. The following tips will help you relieve feelings of stress and avoid the onset of stressful episodes.
Exercise. Vigorous exercise causes the brain to release certain chemicals and hormones that can reduce tension in the body and improve overall mood. Strive to exercise at least thirty minutes each day and whenever you feel stressful feelings building up, in order to avoid the symptoms caused by this agitation.
Breathe Deeply. When you can't exercise but feel yourself becoming anxious try taking a few deep breaths. Choose something relaxing to focus on or imagine and breathe in deeply and slowly for a few minutes until the feelings of stress subside and the tension is relieved from your body.
Meditate. Many people find that meditation, done once a day, preferably at night before falling asleep, can help them control their feelings of stress. This meditation can be as simple as sitting quietly in a dim room and thinking soothing thoughts or as elaborate as following a scripted meditation tape or outline. Long, warm baths, writing in a diary and stretching exercises or yoga can also be used as meditation.

Think Positive. People with an optimistic attitude are less likely to suffer from the symptoms of IBS than their pessimistic counterparts. If you notice that your mind often turns to the worst-case scenario first practice changing the way you think. For example, when a negative thought pops into your head consciously replace it immediately with a positive one.
Coping Techniques to Relieve Symptoms
Once you have learned how to control the stress in your life, you may also need to make some lifestyle changes to help relieve your IBS symptoms. Coping with the symptoms of IBS is easier when you know how to reduce the occurrence of those symptoms.
The easiest place to start when considering lifestyle changes for Irritable Bowel Syndrome is with diet. Begin by breaking your meals up into four or more smaller meals throughout the day. Large meals, especially those eaten close to bedtime, can trigger the onset of IBS symptoms like abdominal cramping and diarrhoea. You should also strive to eat your meals more slowly in order to give your digestive system time to adjust to the food you consume. Other good diet tips for IBS include limiting your caffeine, alcohol and fatty foods intake and increasing your intake of fibre.
Other ways to reduce the occurrence of IBS symptoms include quitting smoking, avoiding diet colas, taking a leisurely walk after meals to help speed up digestion, taking laxatives or anti-diarrhoeal medications when leaving the house.
Coping with IBS and Enjoying a Normal Lifestyle
Even if you seek treatment from your doctor, follow the recommended diet, manage your stress and exercise regularly you still may experience episodes of IBS symptoms. Because of this risk it may seem impossible for you to leave the house, enjoy a dinner out or socialise with friends. Before you let IBS ruin your life you need to try a few coping techniques that can make daily life more enjoyable.
Begin by keeping an Irritable Bowel Syndrome Symptom diary. By tracking your symptoms, symptom triggers and coping techniques you can learn more about the way the disorder affects you and plan your activities around episodes.
Next, educate yourself and your family and friends about the disorder. The symptoms of the disorder, like diarrhoea and gas, can be very embarrassing especially if no one understands why they are happening. By informing yourself and your loved ones about your condition you can avoid the stress and worry associated with anticipating the onset of symptoms and feel less stressed when you need to excuse yourself repeatedly to use the bathroom.
Another way to learn more about Irritable Bowel Syndrome and get the understanding you need is by joining a local support group. Support groups offer classes on symptom management, stress management and IBS education, plus you will always find an understanding shoulder to cry on when you feel overwhelmed by your condition.
Perhaps the best way to cope with IBS and eliminate its interference in your life is through preplanning. Since stress is a big symptom trigger for individuals suffering from IBS it is best to take the stress and the unknown, out of most situations. Before agreeing to a dinner out with friends plan your evening accordingly. For example, on the day of the event make sure that you eat lots of small meals so that you do not over do it at dinner. Also make sure that you take along a laxative or anti-diarrhoeal medication to treat symptoms on the go. Also, call ahead to determine the availability of bathrooms. You may even want to ask if there is a park or shopping area to stroll through after dinner. By taking an after dinner walk you can give your digestive system better chance to process your meal and remain close to the bathroom should the need to use one arise. For the best results avoid eating a large meal, avoid taking a car ride immediately after eating the meal and make sure that your dinner guests know that you may need to make a few stops after dinner and before your next activity.
Learning how to cope with IBS can take some time and effort, however, once you have learned how to live positively with your condition you can put your fears aside and focus your thoughts on enjoying life to its fullest.
You might also like...