All You Need To Know About Constipation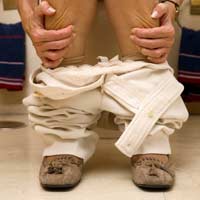 Constipation is a stomach problem that many of us have to deal with at some time or other in our lives, and is one of those medical ailments that many people find difficult to talk about more often than not as a result of embarrassment.
However, it is important to understand that these problems – just like its rival diarrhoea – are problems that can come about as a precursor to another ailment, usually of more severity, so it's important to look at the causes of constipation.
The Main Causes Of Constipation
Hiatus Hernia
Irritable Bowel Syndrome
Lack of Fibre Intake
Stress
Dehydration
Poor Liver Function
Ageing
Intestinal Parasites
Bowel Cancer
Again, the aforementioned list is not exhaustive there are many other causes of constipation but you will find more often than not that these are the most common.
The most important point to make about constipation is that it should, like all ailments relating to the intestines and stomach regions, not be ignored. If the problem occurs once, it might just be a symptom of a change in diet or the introduction to a different food into the system. But if the stomach problem continues, then a consultation with your doctor is a must.
Constipation, like diarrhoea, can be the forerunner to something much more unpleasant, and sometimes life-threatening, so it should not be ignored. It can be dangerous if the problem is not explored and answers found.
Constipation has been known to be one of the features of bowel cancer and those at higher risk of contracting the disease have noted that they have suffered from constipation persistently over long periods of time. So consulting your doctor is very important.
Taking Action on Constipation
You may find that your doctor makes some of the following suggestions:
Increase the amount of fibre in your diet.
Introduce probiotics into your stomach.
Cut down on the use of certain prescription medications. such as those containing codeine.
They may prescribe antidepressants.
Your GP, with the help of a dietician, might also suggest a change in diet that will include foods that are rich in calcium and magnesium. Such foods would include: apples, garlic, brown rice, dried fruits, fish, pulses, and sunflower seeds.
Drinking more fluid is a must where constipation is concerned; one of the major reasons constipation occurs is that your stools are not moist enough to make the journey through your system, so drinking more fluids will – or should – help with this.
Avoiding heavy amounts of starch, such as that found in potatoes, is also important; too much starch can make your stools firm and difficult to move through the intestines to the colon and bowel.
Though for most of us constipation is nothing short of a change in diet and lifestyle, but it is of the utmost importance that we take the right steps to help reduce and prevent it if we can.
You should remember, however, that if the bouts of constipation you are suffering from become prolonged and more frequent, a visit to your GP is the best option. Don't be afraid to consult your GP or feel that you are wasting their time with something that you believe is trivial; all conditions relating to the stomach, the intestines and the bowel have the risk of becoming more serious if not dealt with, so making that appointment is the first step in ensuring the problem does not worsen over time.
You might also like...