Bowel Cancer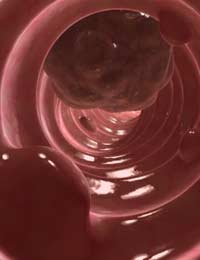 Bowel cancer is another name for colon cancer. This type of cancer is very serious and causes the second highest number of deaths from any type of cancer illness. It is also the third most common type of cancer.
What is Bowel Cancer?
Bowel cancer also called colon or colorectal cancer, is the medical name for the development of malignant (cancerous) tumours in the rectum or colon. These tumours develop in areas of the colon where polyps, or benign growths have formed. Although the polyps start out as being non-cancerous their continued growth overtime, especially if that growth mutates and causes an abnormality in the tissue cells, can lead to the development of cancer.
Bowel cancer is not fatal if caught in its early stages of development, but because the onset of this cancer is usually asymptomatic (meaning the affected individual will not experience any symptoms or pain) the tumour is usually able to grow undetected until it becomes inoperable or until it spreads and infects other body tissues and organs.
The best way to avoid this scenario and protect yourself from developing serious colon cancer is to check with your doctor about routine colon cancer testing. A simple stool occult blood test or colonoscopy can be done to detect the presence of cancer in the bowel, even in its earliest stages.
The Symptoms of Bowel Cancer
Although most cases of early bowel cancer do not produce any symptoms, there are some common symptoms associated with the disease. Symptoms that could indicate bowel cancer or tumour growth include rectal bleeding, a noticeable change in bowel habits, constipation, diarrhoea, a change in the consistency of the stool, tarry (black-looking) stools or stools that contain mucus, and the feeling of still needed to empty the bowels after a bowel movement
.
Are You at Risk for Developing Bowel Cancer?
Because this type of cancer often goes undetected it is important for individuals to known their risk factor so that they can take appropriate steps to be screened for the development of the disease. The following factors increase your risk for developing bowel cancer:
Heredity- if a close relative develops colon cancer before the age of 55 you will experience an increased risk for developing the disease at around the same age.
Age- colon cancer is more common in individuals over the age of sixty. So, the longer you live the higher your chance of developing the condition.
Inflammatory Bowel Disease- people who suffer from another type of inflammatory condition, such as colitis, have an increased risk for developing bowel cancer.
Polyps- individuals with a history of intestinal polyps are more likely to develop bowel cancer.
Diet- people who consume a diet that is high in red meat have a greater risk of developing colon cancer. This is especially true if the same diet is low on fresh fruit and vegetable consumption.
Lack of exercise- individuals who live a sedentary lifestyle are more prone to developing bowel cancer as they age.
Smoking- studies have shown that smokers are more likely to develop colon cancer, and in addition, are also more likely to die from the disease once it has developed.
Bowel cancer can be treated if detected. The best way to protect yourself is to know your risk factors, get regular colon screenings, and take steps now to improve the overall quality of your health.
You might also like...