Teething and Upset Tummy Problems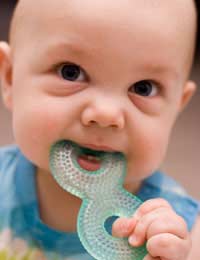 When your baby is teething, you might notice that upset tummy problems seem to be occurring at the same time. While these two are commonly associated, it's actually a myth of sorts. Teething in itself does not cause an upset tummy.
Bacteria and an Upset Tummy
What happens is that the teething pain has your baby reaching for virtually any item to bite on to provide relief. The bacteria found on these items can upset a baby's sensitive tummy, leading to discomfort or diarrhoea.
In a smaller number of cases, the teething pain may be so uncomfortable for a baby that it leads to a loss of appetite. Again, teething in itself is not causing the upset tummy but it is more of an indirect side-effect of the experience.
Reactions to pain can be very individual; some babies even experience disrupted sleep while others have no problems – tummy or otherwise – at all. Lack of sleep can also lead to an upset tummy, so treating teething issues is even more important.
There has been some suggestion that the extra saliva swallowed during teething can lead to looser stools or even diarrhoea. It has yet to be agreed upon by professionals but it is one school of thought on why your baby has an upset tummy during teething.
Keeping a Close Eye on Your Baby
While your baby is teething, a helpful way to monitor any upset tummy problems is to check how much your baby is being sick. If more is coming up than normal or your baby is not feeding as he or she usually does, an upset tummy could be the culprit.
Also keep in mind that if teething finishes and your baby continues to show symptoms of an upset tummy, then a trip to the doctor is in order. In fact, it is usually wise to have regular trips to the doctor while your baby is teething, to let you identify any problems early on.
What You Can Do
Make sure you keep all of your baby's toys properly and regularly sanitised. Keeping other household items out of reach is similarly important. You can use teething rings to soothe your baby's gums.
Generally, the application of something cool to the gums can ease the pain. For instance, frozen fruits can also be helpful when your baby is teething. Over-the-counter medications are only really needed when non-medication approaches work. You can use pain relievers that are specially formulated for infants.
Another option for your teething baby is to offer one of the newer teething gels. These are gently rubbed directly on the gums to provide relief from the pain. Most parents will find that as with the pain, what works is an individual thing but most of the options listed above are considered safe to try.
When to Worry About an Upset Tummy
While it's normal for your baby to experience some tummy upset if he or she is teething, especially if biting on a lot of household items, it's not usually cause for major concern. If, however, symptoms of an upset tummy continue or your baby seems to be in a great deal of distress, then you should see your doctor or paediatrician for advice. Teething is a normal part of your baby's development. But if an upset tummy also occurs, you can help your baby get back to normal.
You might also like...